Framework Laptop with Ubuntu Review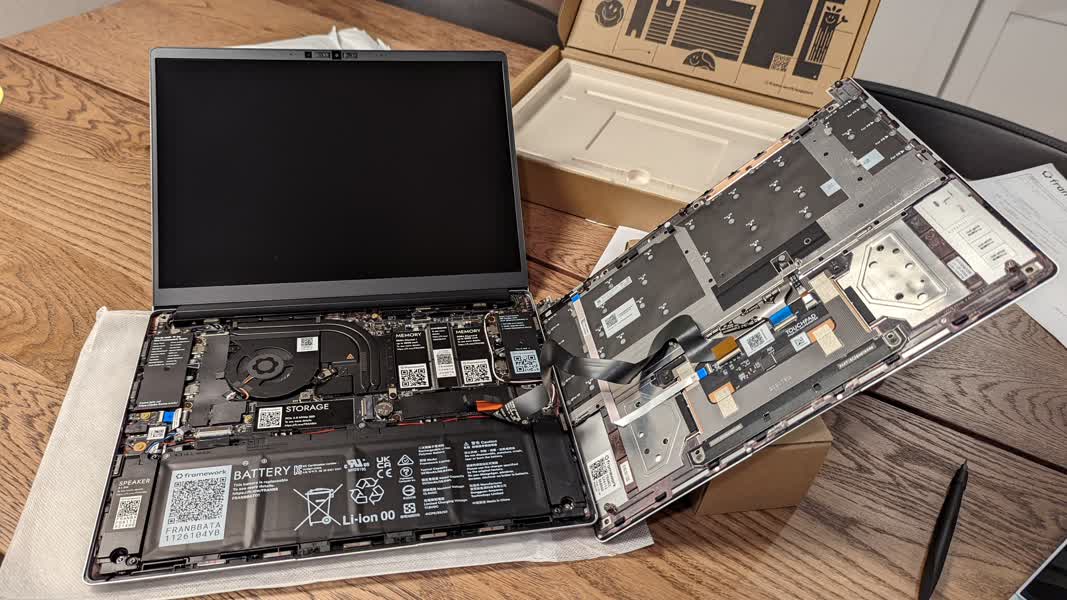 I built my own laptop over the holiday break and it's a developer's dream come true. I took a chance and ordered a Framework Laptop DIY Edition. I'm so glad I did. The Framework is an excellent platform to customize and build a very capable and stable Linux machine for development. Here's what I love about it and things that could be better.
Things I love about it
Screen
The screen has a 3:2 ratio, high-resolution, and super bright colors. From a purely unscientific consumer observation, the color intensity, blacks and whites are perfectly balanced. I can see myself working extended hours programming and reading on this display. The swivel allows the display to open almost 180 degrees. This is an often underestimated feature. But, the ability to control the viewing angle to almost flat is priceless.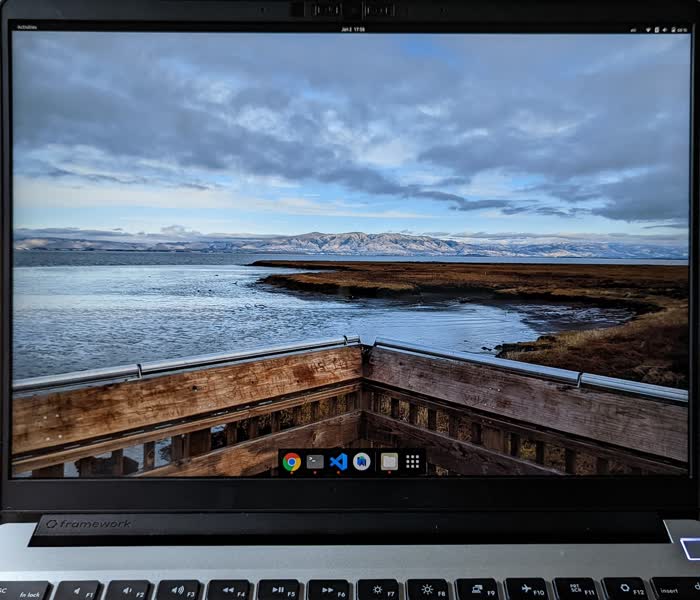 Keyboard
It feels just fantastic to type on this keyboard. The keys have the right amount of texture, grip, travel, and haptic feedback. I've been typing on it for extended sessions with noticeably less fatigue at the end compared to many other laptops - including MacBooks.
Specs
I ordered mine with an Intel i7-1165G7 (12M Cache, up to 4.70 GHz) processor, 1 TB hard drive, 32 GB of RAM, and the ports that I want, where I want them, to use them when I want them. No dongle hell here. The expansion ports system is so cleverly designed that it almost feels strange to think that no other company has brought them to market before. I configured mine with one USB-C port and a Display Port on the left, another USB-C and a USB-A on the right. I have an HDMI in case I need it too. I regret not ordering a 1 TB expansion port as well - but I will.
Extensibility
The thing about this machine is that it can be upgraded. I was skeptical at first thinking whether it was going to be more of a marketing gimmick that anything else. But, as soon as I rolled up my sleeves and installed the hard drive, memory, and WiFi modules myself following their setup guide, I completely understood its value proposition. I have a machine with better specs than a comparable MacBook Pro M1 for less. And, I can easily upgrade to 64 GB of RAM and 2 TB of storage and still be more cost effective by a considerable margin.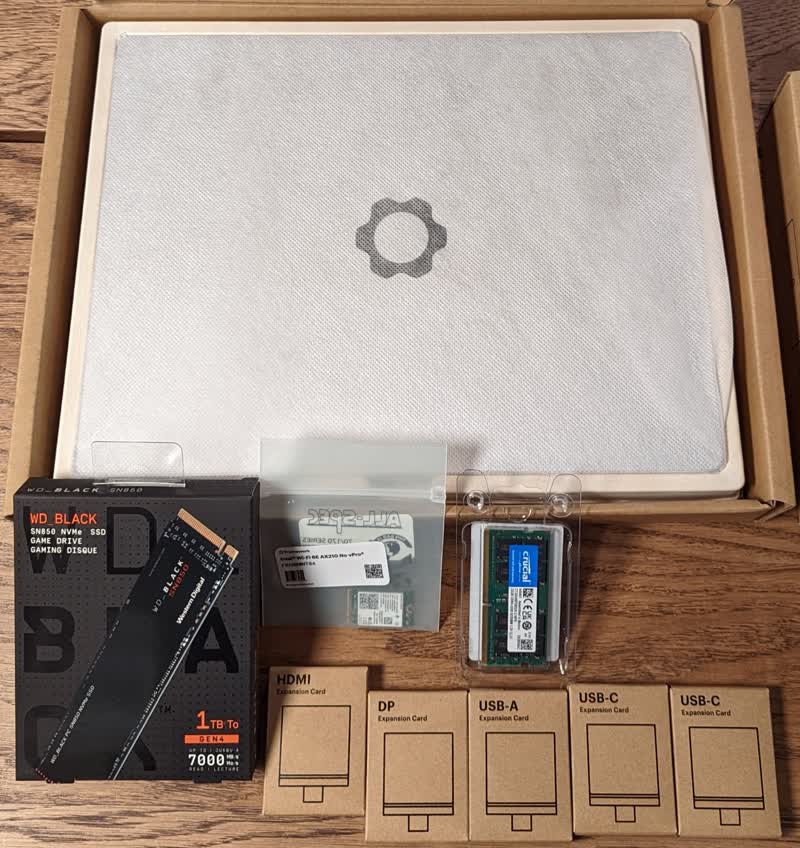 Price
This configuration at $1,600 USD is an incredible value compared to a MacBook and other comparable laptops. If you need to do native iOS or macOS development then a MacBook is your obvious choice. But, if you do all other kinds of development including Android and cross-platform, then a Framework Laptop with Ubuntu and the Google ecosystem is a great deal.
Linux
To say that it just works would be an understatement. It works beautifully!
I installed Ubuntu 21.10 in a breeze. Everything worked flawelessly: graphics drivers, WiFi, Bluetooth, camera, microphone, expansion ports. I was up and running with Android Studio and Visual Studio Code in a very short amount of time.
Design and Experience
This machine is beautifully designed and engineered. MacBooks used to be the reference for style. Not the only point of reference anymore. The body of the Framework Laptop is all aluminum machined with precision, lightweight, pleasing to the eye and touch. The weight of the display and body are balanced and make it possible to open the display with a single finger without having to hold the body down. The trackpad, keyboard, bezels, and branding are all in harmony.
The most beautiful machine I have owned in terms of design, aesthetics, manufacturing quality, and overall integration is the original Pixelbook by Google. It's simply gorgeous. I still use it. I wish that Google had continued with improved revisions of that Chromebook. The Pixelbook Go is a decent successor, but it doesn't have the same spirit. I've been looking for a close equivalent with more muscle and I finally found it in the Framework. See them side by side.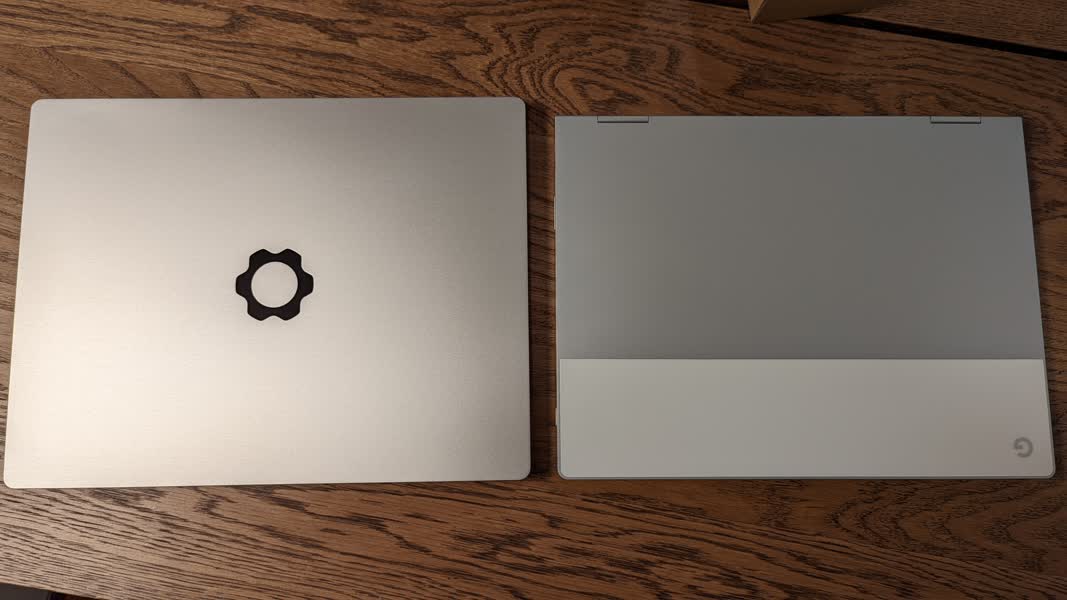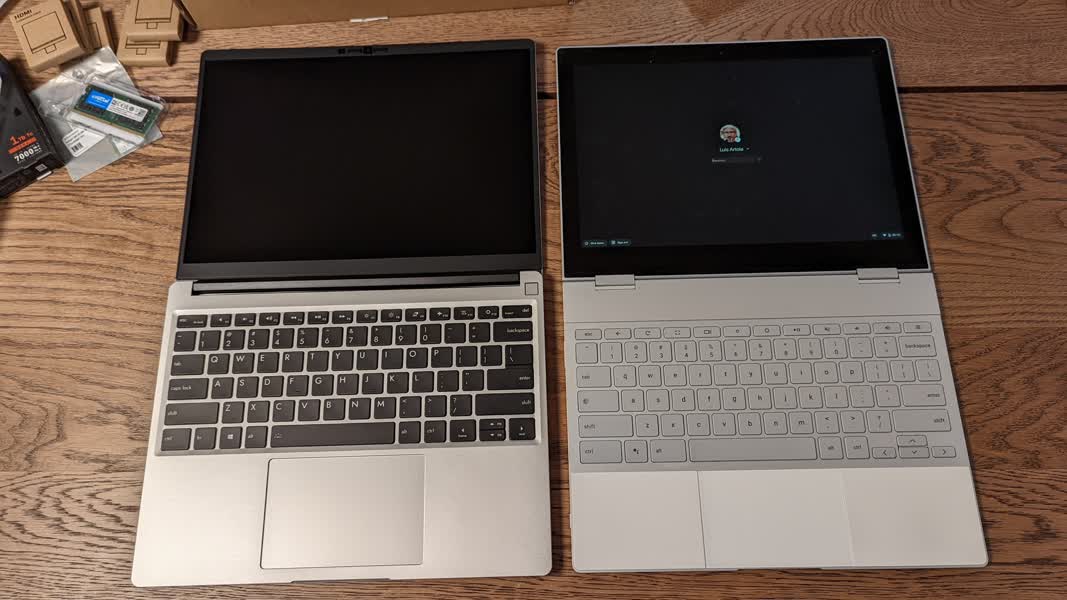 Battery
One of the initial caveats with installing Ubuntu is that deep sleep and hibernate are not enabled by default. Deep sleep is easy to enable. Hibernate takes a bit more effort, but it's straightforward. Once configured it works like a charm. I noticed about a 2% drain in 3 days of hibernation. If this power loss is linear, it can go for weeks in hibernation. Overall, the battery performs well and its life depends very much on what you are doing during the day. Not to state the obvious, but, hammer the CPU and you'll run through power faster. As a developer, your mileage will vary depending on how much compilation and CPU-intensive tasks you do vs. writing code, and other tasks.
Things that could be better
Speakers
The sound is flat and average at best. The Pixelbook Go by Google delivers a very impressive rich sound from such a thin and lightweight device under $1k. I hope that the Framework design team takes clues from it and improves the speakers and chassis design for better sound. Better yet, make speakers upgradable just like the other components.
Privacy hardware switches
The mechanical switches to turn off access to the microphone and camera are just too in your face. It is probably about the only thing in the whole design that could benefit from a more discrete form factor. They are centered on the top edge of the screen bezel. It's a bit hard to switch them on and off. It's unclear whether they are mechanically covering the lens or disconnecting the microphone and camera. Or, if they are just actuating something internally. Regardless, they could be done more discreetly. The HP Elite c1030 Chromebook has a switch on the left side on the edge of the body next to the ports. It's a small switch that's easy to operate and very discreet. I hope future revisions of the Framework Laptop had a similar mechanism.
Graphics card
Can this be made upgradable in the future? Would seriouly consider building one for gaming if they were.
Conclusion
I'm really happy that I gave the Framework Laptop a try. My Pixelbook has a long life expectancy for a modern device given that it runs ChromeOS on a CPU that has more than enough juice left for a few more years. Whether the Framework Laptop will live to similar expectations considering that its premise is upgradability remains to be seen. But, with Google Workspaces and Chrome profiles it feels like I have the best of Chromebooks and the muscle of a Linux development machine in one. Kudos to the Framework team.
---
Disclaimer: Opinions are my own.
---